Веганский велингтон
Вегетарианский «Веллингтон»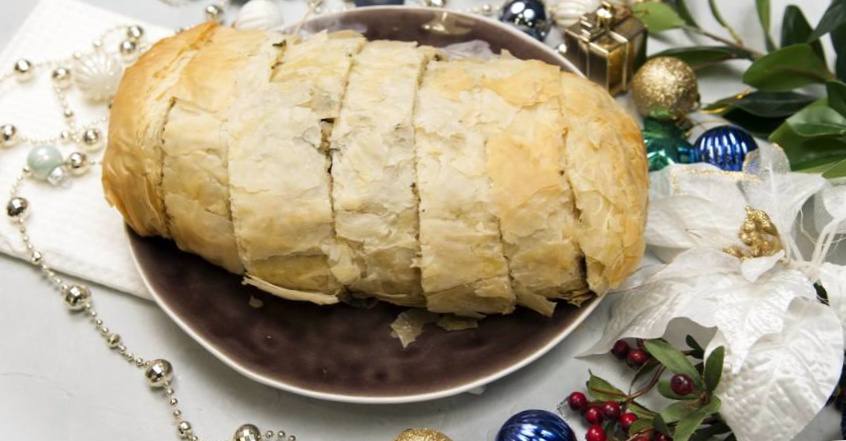 Самые вкусные рецепты с фото с пошаговыми инструкциями и видеоуроками. Простые и полезные блюда на любой вкус! Телеканал Еда — наслаждайтесь едой вместе с нами!
Рецепт «Вегетарианский «Веллингтон»» представлен в категории Выпечка, для приготовления этого блюда Вам потребуется не более 1 час 30 минут. Чтобы сделать это блюдо в домашних условиях по рецепту от автора Sara Brightman потребуется: тесто фило, морковь, масло растительное, шампиньоны, лук-шалот , чеснок, бурбон, сироп кленовый , сухари панировочные, петрушка, черный перец, орехи кешью, грибы шиитаке, лук-порей, стебель сельдерея, семечки подсолнуха.
Морковь моем, укладываем в сковородку, заливаем водой, доводим до кипения и увариваем 15-20 минут. Затем сливаем лишнюю воду, на этой же сковороде обваливаем морковь в оливковом масле, посыпаем свежим тимьяном и ставим в духовку запекаться на 20 минут.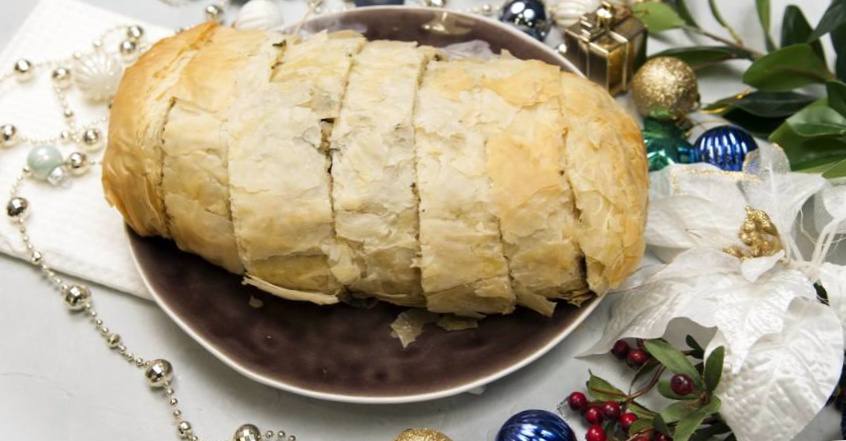 Приготовим грибной дюксель. 300-350 г шампиньонов произвольно нарезаем и пробиваем в блендере. Обжариваем на сковороде с растительным маслом, добавляем соль, чёрный перец, измельченные лук-шалот и 2-3 зубчика чеснока. Всё тушим, помешивая. Затем вливаем бурбон, клиновый сироп, добавляем 1-2 ст. л. сухарей панко, измельченные базилик и петрушку.
Приготовим орехово-фасолевую пасту. Отвариваем 50-100 г кешью в подсоленной воде 30 минут. 200-250 г грибов шиитаке нарезаем соломкой, обжариваем на сковороде с растительным маслом.
Выкладываем консервированную фасоль на противень с фольгой, сбрызгиваем её оливковым маслом, солим и ставим в духовку на 20-25 минут.
На сковороде с растительным маслом обжариваем нарезанные лук-порей (белую часть) и 1-2 стебля сельдерея.
Поочередно выкладываем в блендер и пробиваем до крупной крошки запечённую консервированную фасоль, кешью, обжаренные шиитаки, сельдерей, лук-порей, семена подсолнечника. Перекладываем пасту в миску, добавляем зелень.
Используем тесто фило. На первый лист выкладываем часть грибного дюкселя, заворачиваем в рулет, смазывая оливковым маслом, эта часть пойдет в самую середину «Веллингтона». Следующий лист теста фило смазываем растительным маслом, закрываем еще листом теста фило, выкладываем равномерно часть орехово-фасолевой пасты, сверху добавляем морковь, накрываем ещё слоем орехово-фасолевой смеси, а сверху выкладываем заранее подготовленный рулет с грибным дюкселем, заворачиваем всё в тесто фило, не забывая промазывать оливковым маслом.
Еще один лист теста фило смазываем оливковым маслом, накладываем в нахлёст другой слой, чтобы увеличить длину листа теста. На удлинённое тесто выкладываем еще один слой грибного дюкселя, сверху рулет из некольких слоёв теста с начинками. Всё плотно заворачиваем, подгибая края.
На противень с пергаментом очень аккуратно перекладываем заготовку, сверху покрываем ещё одни слоем оливкового масла. Ставим в духовку, разогретую до температуры 180 градусов, сначала в режиме горячего пара на 20 минут, затем переставляем на режим конвекция, ставим запекаться вегетарианский «Веллингтон» еще на 15 минут. Приятного аппетита!
Vegan Wellington
This post may contain affiliate links. See my disclosure policy.
The flavor of this vegan wellington is OUT OF THIS WORLD. Beef Wellington, who?! This recipe is nut-free and perfect for holiday dinner.
Vegan Wellington
If you have heard of Gordon Ramsay, you probably know about the famous Beef Wellington dish that he serves at his restaurants. Or rather, you probably have memories of him yelling at Hell's Kitchen contestants about how they totally screwed up the beef wellington. Except he says it with plenty of expletives.
I had big, big dreams of making a beef wellington before I went vegan, and I never got around to it. But who says we can't make a vegan wellington?
Beef Wellington is essentially a cut of beef, like filet mignon, rolled up in a puff pastry with some seasonings.
Is Puff Pastry Vegan?
MOST store-bought puff pastry sheets are totally vegan! My grocery store carries the Pepperidge Farm brand. It comes pre-rolled in a 10×15 sheet which just makes life easier. If you find one that is not pre-rolled, roll it out to about that size if possible.
How to Make a Vegan Wellington
The process of making a vegan wellington is much less complicated than I anticipated – we are going to make the filling in one pot, roll it up in puff pastry, and then bake it.
The filling is completely nut-free. I noticed that many vegetarian or vegan wellington recipes contained walnut or pecans (alongside mushrooms). Instead of nuts, we'll get that same texture from sunflower seeds and lentils. Sunflower seeds were a total hit in this vegan bolognese.
Perhaps the most complicated (but it's not really complicated at all) part of this is rolling up the filling in the puff pastry. I recommend using an ice cream scoop or a large spoon to pack the filling tightly, then forming it so it's wide enough to take up the center third area. Leave about an inch of room on the ends. Fold up the sides. They should overlap about 1/2 an inch or so. Use a little water to help seal the seam.
Then, pinch together the ends of the puff pastry. I like to tuck them in like you would wrap a gift. Again, use some water to help seal so the filling doesn't sneak out.
Flip the puff pastry over so the seal is down. Place on a baking sheet that is lined with parchment paper or a silicone baking mat.
How to Score Puff Pastry
Scoring is a simple method that 1) allows steam to escape while cooking and 2) looks pretty. To score mine, I basically just drag a knife diagonally across the pastry to make shallow slits, about 1 inch apart. Then, I go down the opposite way. This creates the diamond shapes. If you don't want to get super fancy, you can just cut 3-4 slits across the pastry.
To create a golden crust without an egg wash, I brush non-dairy milk all over the top. Then, just pop your wellington in the oven and bake until beautifully golden brown!
Can I Make Vegan Wellington Ahead of Time?
Yes! Follow the instructions up until the baking part. Wrap in plastic wrap or store in a large container in the fridge for up to a day. Bake as instructed, but keep in mind it might take some extra time.
It's best to eat right after baking, of course, but I still really enjoyed the warmed-up leftovers the next day.
Vegan Wellington (Gluten-Free)
Last updated — July 12, 2019 ; Published — December 26, 2018 By Rhian Williams 5 Comments
This Vegan Wellington is crispy and flaky, rich and hearty and so full of flavour! A seriously satisfying plant-based showstopper!
Why you'll love this Vegan Wellington:
it's crispy and flaky
it's "meaty" and flavourful
it's hearty and satisfying
it's packed with protein and fibre
it's healthy and nutritious
it's gluten-free
it's the perfect main dish for Thanksgiving, Christmas, Easter and everything else in between!
How to make this Vegan Wellington:
Scroll down to the bottom of the post for the full recipe.
Fry the onion and garlic for 10 minutes until softened.
Add the mushrooms and fry for a further 5 minutes.
Place all the ingredients in a food processor along with all the other ingredients.
Blend briefly until just combined – you'll want it to be easy to stick together but still retaining some texture.
Lay out a sheet of baking paper on a counter. Sprinkle the surface of the paper and a rolling pin with a generous amount of flour.
Take the pastry dough and use the rolling pin to roll it into a square shape, as thin as you can without it breaking.
Use your hands to shape the filling into a long sausage shape that's just a little shorter than the pastry.
Place this on the pastry, about a third of the way in from one side, making sure to leave a little bit of space at the top and bottom of the pastry sheet.
Bake in the oven for 35-40 minutes, until the pastry crust is firm to the touch and golden brown.
How long does this Vegan Wellington keep for?
This Vegan Wellington is best eaten fresh but leftovers keep covered in the fridge for a couple of days.
How to serve this Vegan Wellington
Here are some sauces you can serve with this Vegan Wellington with:
Here are some side dishes you can serve with this Vegan Wellington:
Substitutions you can make to this recipe:
you can substitute the walnuts with almonds or sunflower seeds
you can use any type of mushrooms you like
you can substitute the rosemary with any other herbs such as thyme or sage
you can substitute the gluten-free flour with rice flour
if you're not gluten-free, you can substitute the gluten-free flour with plain flour.
More vegan "meat" recipes:
If you try out this recipe or anything else from my blog, I'd really love to hear any feedback! Please give it a rating, leave a comment, or tag a photo @rhiansrecipes #rhiansrecipes on Instagram! Thank you.
Vegan Mushroom Wellington recipe
Published: Dec 8, 2016 · Updated: Nov 7, 2019 · This post may contain affiliate links.
Juicy mushrooms take center stage in this vegan mushroom wellington – a fun spin on the classic beef wellington.
My Mushroom Wellington is a firm Christmas favourite. Not just with me, but you, my wonderful readers.
I first published this vegan wellington recipe all the way back in 2011 and I felt the very old and embarrassing photos deserved an update.
So a little history about how this recipe came to be.
Back in 2011, I was asked by the Australian Mushroom Growers Association to join their Mushroom Masters Tournament of Taste.
The Tournament of Taste was an annual competition between select Australian, Canadian and US bloggers who shared delicious recipes with mushrooms as the key ingredient.
I racked my brain for a while over what to make, when one day (I think after seeing a cooking show on tv) I came across a beef wellington and thought wonderfully meaty portobello mushrooms would wonderfully fit.
So my Mushroom Wellington was born and it just so happens that it went on to win!
It also went on to be come THE most popular recipe on the blog.
I even include it in my vegan toolkit, which is a free download packed with my popular recipes, cheat sheets, and resources for vegan eating. (Grab a copy here if you haven't already!)
I've slightly updated my vegetable wellington recipe (only slightly) to make it dairy free, given I can't tolerate dairy very well these days. And it just so happens that now makes it a vegan mushroom wellington too!
The secret to a deliciously juicy yet flaky Mushroom Wellington is to pat everything dry and make sure it is completely cold before wrapping it in your vegan puff pastry.
Skip this step and your pastry is not only going to be soggy, it will tear when you try to wrap up your wellington.
Can't find a good quality vegan puff pastry? You can find my vegan puff pastry recipe here.
You want 3 to 4 large portobello mushrooms for this recipe. Try to pick mushrooms that are about the same diameter so you don't end up with a lumpy bumpy portobello wellington.
The mushrooms are then layered with cooked baby spinach (chard works well here too) and caramelized onions.
A tip here, don't use store bought caramelized onions as they are far too sweet for this recipe.
Take the time to slowly cook your own onions and you'll be rewarded with the most delicious flaky and golden vegetarian wellington imaginable.
Looking for the perfect side dish for my Mushroom Wellington?
Look no further than my Crispy Roast Potatoes! Golden, crunchy and spiked with herbs these potatoes are nothing short of addictive. So make extra as they will disappear fast!
And if you need more recipe ideas, be sure to snag the free printable e-book with all my most popular vegan recipes!
Just for fun here's one of the original photos from back in 2011.
The photo just didn't do the recipe justice. Did it?
Vegan Wellington
This vegan wellington is perfect for a special occasion. Creamy mushroom sauce wrapped in deliciously flaky puff pastry. Simple and gorgeous.
Now that it's getting close to Christmas I'm starting to think of what to put on the Christmas menu.
A vegan wellington is a great addition to a Christmas menu or indeed any special occasion.
We decided to make this a vegan mushroom wellington, so basically make a filling from mushrooms and then wrap that in pastry and bake it. I mean, you know it's just got to be delicious!
I've been seeing a lot of vegan wellingtons popping up on my facebook feed lately and it made me realize that ours is very non-traditional!
Ours is really more like a deliciously saucy pie in a wellington shape, but you know, as long as it's delicious is my motto.
Making a Vegan Mushroom Wellington
A deliciously saucy mix of mushrooms, onions, spices and cashew cream make up the filling and that is wrapped in puff pastry, brushed with melted vegan butter and then baked for 25 minutes until perfectly browned and flaky and perfect.
It looks beautiful and festive and tastes wonderful.
Definitely garnish with some fresh rosemary.
Pro Tips for the Best Vegan Wellington
You want your sauce to be thick. If your sauce is 'too' saucy then it will spread too much when you try and place it onto the pastry and it will be difficult to seal it into the pastry.
The cashew cream you add in to your mushrooms thickens up really well as it heats, so that's part of it, the other part is to let the sauce cool a bit before adding it onto the pastry. It continues to thicken when cooled and will be easier to handle.
Your puff pastry should be thawed, but still cold. If it thaws too long at room temperature it gets sticky and becomes hard to handle.
It's actually ideal if you let it thaw in the fridge and use it straight from the fridge.
If it does get sticky though, then flour a surface and your rolling pin and roll it a bit with a sprinkle of flour, that will sort that out and make it easy to handle.
Leave a margin on the side of the puff pastry where you're adding your filling. You need enough space to be able to fold it over and seal it down (see pics above).
Don't panic if sauce does start coming out the side when you're trying to seal your wellington.
Just scoop off the sauce overflow and carry on.
If you had to trim your puff pastry to fit your baking tray (we did) then you have a little extra pastry to work with and can add the leftover pieces to the edges of your wellington where there was a bit of a sauce overflow to strengthen it.
The middle part of our wellington shows the evidence of a little patching up!
Brush with melted vegan butter. This gives amazing results in a flaky crispy delicious pastry.
Cut some diagonal slashes across the top of the wellington right before baking. This allows steam to escape during baking but also looks super pretty!
What about making it in advance?
The sauce can be made in advance and stored in the fridge for 2-3 days and then added to the pastry and baked when you're ready. That is the only part that can be done in advance.
Once it's wrapped in the pastry it needs to go right into the oven and once baked needs to be enjoyed right away.
Leftovers are still edible and tasty, but there is the possibility of the pastry getting soggy and it definitely loses its flaky crispiness. There is just really no way it is going to be as good the next day.
Hot and flaky and right out of the oven is the way forward for this one.
Is puff pastry vegan?
Yes, thankfully it usually is. It's one of those 'accidentally vegan' things.
Of course read the ingredients as some may not be vegan but it's very common for puff pastry to be vegan.
I think you will love this vegan wellington! It is:
Perfect for a special occasion.
Creamy mushrooms wrapped in flaky pastry!
Simple and gorgeous!
You definitely want to serve it right away, this is a fresh (and hot) is best sort of deal.
Want more delicious vegan recipes?
Our vegan pot pie is another great option that would work wonderfully for Christmas or another special occasion. Our vegan meatloaf is great too and so is our vegan shepherd's pie!
This pie is so saucy it doesn't need any gravy, but if you're making mashed potatoes or anything else needing a gravy, we have a delicious vegan gravy recipe and a vegan mushroom gravy too.
And if you're short on sides for a special occasion meal, our vegan scalloped potatoes are divine!
Let us know in the comments what you think of this vegan wellington and please rate the recipe too!
Sign up for our email list and we'll send you a gorgeous (and free) recipe ebook with 10 delicious vegan dinner recipes. You'll also be the first to know when new recipes are posted to the blog.
Vegetarian wellington
Create a vegetarian centrepiece with this meat-free wellington with beetroot, mushroom and butternut squash wrapped in pastry. It's ideal for a celebration
Nutrition and extra info
Nutrition: per serving
Ingredients
Probably the most widely-used oil in cooking, olive oil is pressed from fresh olives. It's…
Popular in both Italian and British cookery, sage has long, grey-green leaves with a slightly…
Related to the onion (as opposed to being a younger version of it), shallots grow in clusters at…
The mushroom is a fungus which comes in a wide range of varieties that belong to two distinct…
'Chestnuts roasting on an open fire. ' that kitsch old Nat King Cole song perfectly…
A favourite in 1970's British salads (served cooked and pickled in vinegar), beetroot is a…
The ultimate convenience food, eggs are powerhouses of nutrition, packed with protein and a…
1 tbsp sesame seeds or poppy seeds, to decorate
Heat the oven to 200C/180C fan/gas 6. Toss the squash with 1 tbsp oil, half the sage and some seasoning. Tip onto a baking tray and roast for 25 mins until tender.
Meanwhile, heat 1 tbsp oil in a large frying pan and fry the shallots for 10 mins until tender. Add the mushrooms and fry for 15 mins until softened, and the liquid has evaporated.
Add the garlic and remaining sage to the mushrooms, fry for a minute, then add the double cream. Stir until it coats the mushrooms and no liquid remains. Fold in the breadcrumbs, mace, chestnuts and roast squash. Season everything well, adding a grating of nutmeg. Leave to cool before assembling the wellington.
Roll the pastry out on a floured work surface to a 35 x 45cm rectangle. Transfer to a large parchment-lined baking sheet with one of the long lengths of the pastry facing towards you. Spoon the mushroom and squash mixture down the length of the pastry, leaving a 7cm border along the top and 1cm on both sides. Brush all the exposed pastry with beaten egg.
Put the beetroots in a line down the middle of the filling – they should be touching. Fold the filling-covered, long length of the pastry over the beets, using the paper to help you. Roll up and trim the pastry with a knife when it's overlapping by 1cm.
Place the wellington seal-side down, and pinch the ends to seal. Egg wash the whole thing and use a fork or blunt cutlery knife to score the pastry in a pretty pattern. Chill until for at least 30 mins, or up to 24 hrs.
Heat the oven to 200C/180C fan/gas 6. Brush the wellington with more beaten egg, sprinkle with the sesame or poppy seeds and bake for 45-50 mins until golden brown and puffed up. Leave to rest for 10 mins before carving into chunky slices with a sharp knife to serve.
The Ultimate Vegan Wellington
This post contains affiliate links. Read my disclosure policy here.
Impress your guests with this gorgeous Vegan Wellington! The filling is meaty, satisfying and ever-so-tasty! It's surprisingly easy to make too!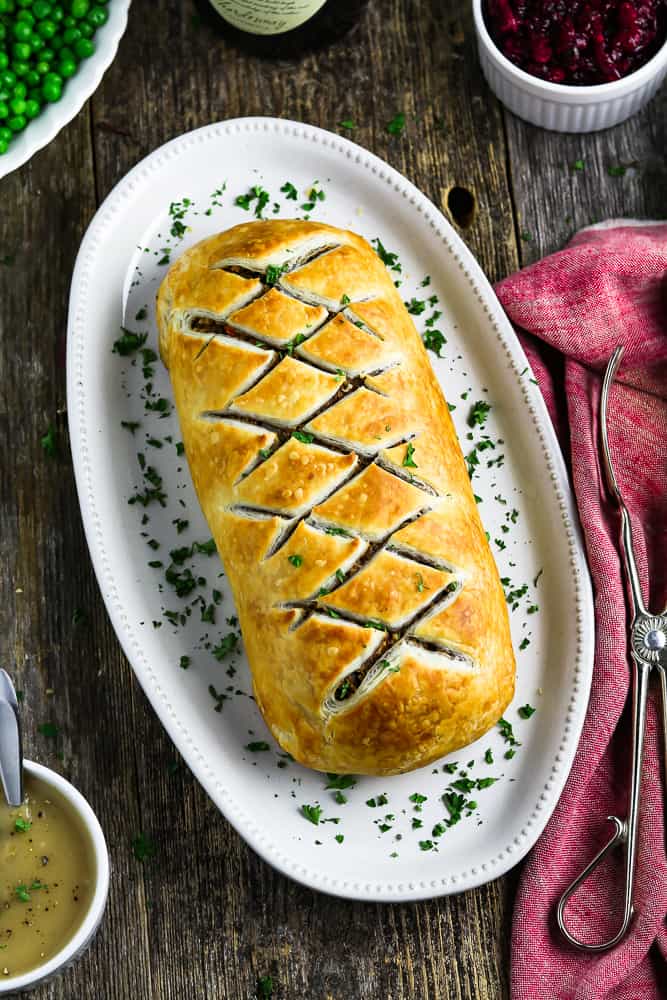 If you haven't tried a Vegan Wellington before, you may want to try it out this year. It really makes a statement! You'll need very simple ingredients that you can find at your local grocery store.
The base of the filling is made with mushrooms and chickpeas that are broken down for a nice meaty texture. Then I mixed it together with perfectly sautéed veggies, mouth-watering seasonings and then wrapped it all in a puff pastry. It's heavenly!
If you want to get crazy, you can make this Vegan Holiday Roast that I posted last week, too. Options are always nice to have!
For sides, you can serve Sourdough Stuffing, Sautéed Veggies, Apple Cranberry Sauce, and a big festive salad. Oh, and you gotta have Savory Mushroom Gravy too!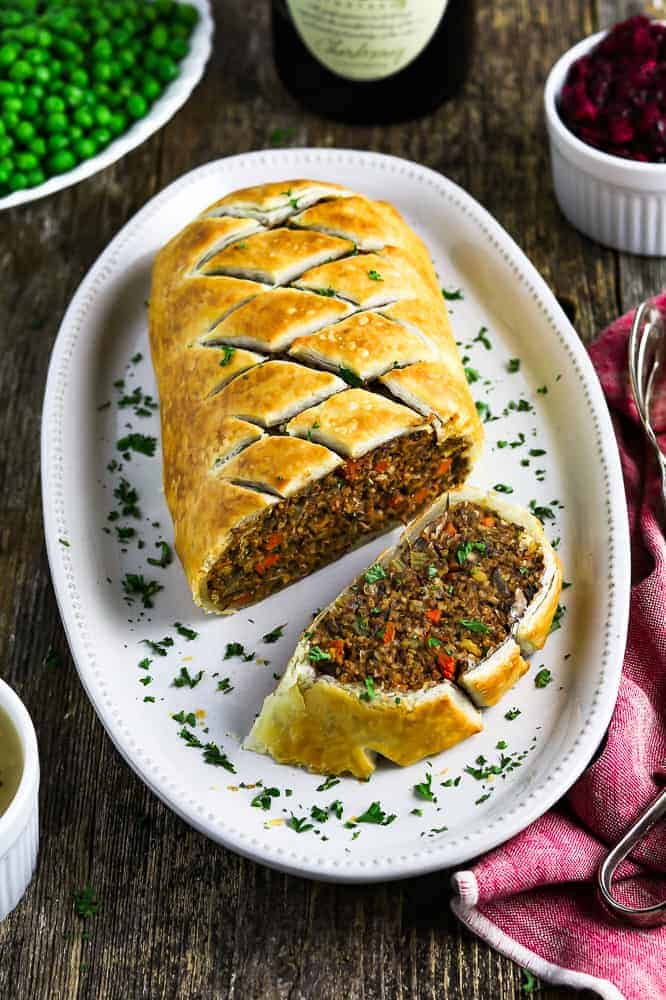 Is puff pastry vegan?
YES!! Most store-bought puff pastry sheets are accidentally vegan. Can you believe it? You can find them in the freezer section and some are in the refrigerated section.
Pepperidge Farm is the most readily available and can be found at most grocery stores and I believe Walmart and Target carry it too.
Aussie Bakery has cleaner ingredients than most puff pastry brands and it's nice to work with too. However, it's almost impossible for me to find. I purchased at Whole Foods a few times, but I haven't seen it in a long while.
Wewalka can be found in the refrigerated section and it's by far, my favorite puff pastry to work with. It's soft, pliable and can easily be sealed with your hands. The ingredients are fairly clean and I think it tastes the best too. *note: on the package, it says "may contain traces of milk". I called the company and they confirmed that they don't use any animal ingredients in their puff pastry.
How to make Vegan Wellington Filling
(printable version in recipe card below)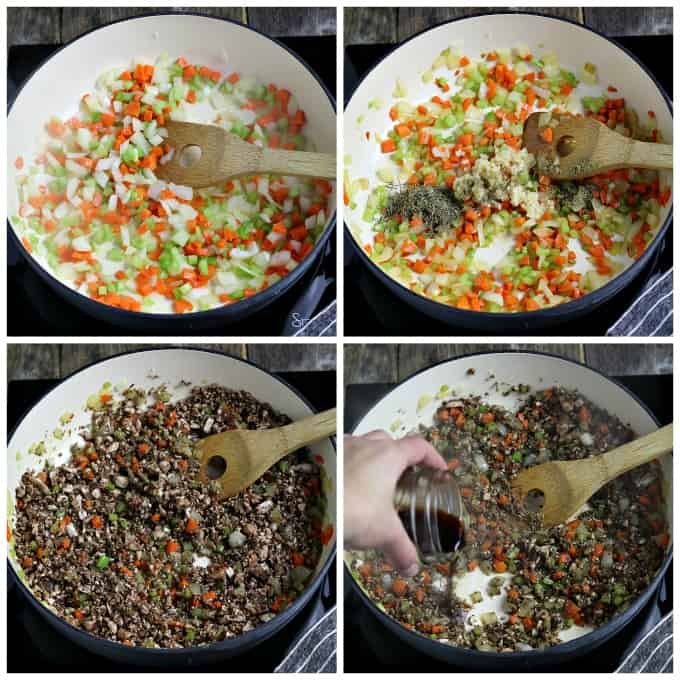 STEP 1 – Sauté onion, celery, and carrots over medium heat until softened.
STEP 2 – Add garlic, thyme, sage, and rosemary and sauté for one minute.
STEP 3 – Now add mushrooms and sauté until softened and their moisture is fully released. The pan should be dry.
STEP 4 – Add the tamari sauce and cook for one minute more. Remove from heat and let the mixture cool.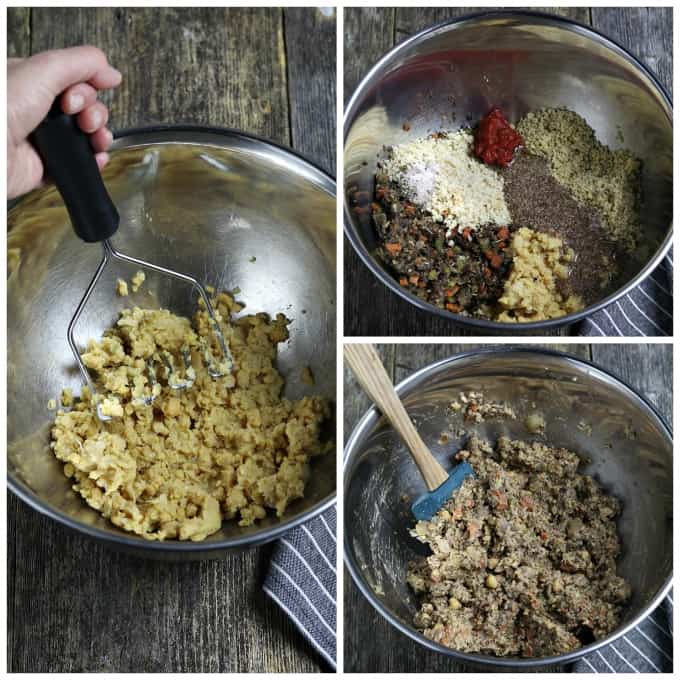 STEP 5 – Mash chickpeas in a large bowl just enough to break down beans. Leave lots of texture.
STEP 6 – Add the cooked mixture, breadcrumbs, walnut meal, flax mixture, Worcestershire, tomato paste, salt, and pepper to the bowl. Combine well. Taste for seasoning and add more if preferred.
How to wrap puff pastry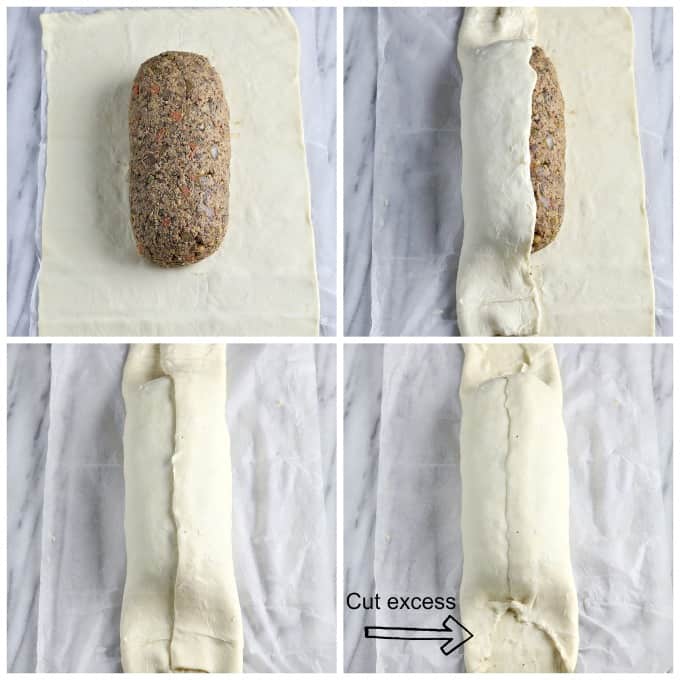 If your pastry sheet is frozen, you'll need to thaw for about 30 minutes before beginning. Also, you may need to roll it out to approximately a 10x13 size.
Shape the mixture into a solid log and place it in the middle of the pastry sheet. Pick up one side and wrap it over the loaf and repeat on the other side. Gently press to seal together. *If it doesn't seal easily, just brush a little non-dairy milk in that area and seal.
Roll up each end and press gently to seal. If you have a lot of extra length, trim the dough first before sealing to avoid a doughy texture at the ends. I cut a V-shape out of the top flap of each end (see above photo).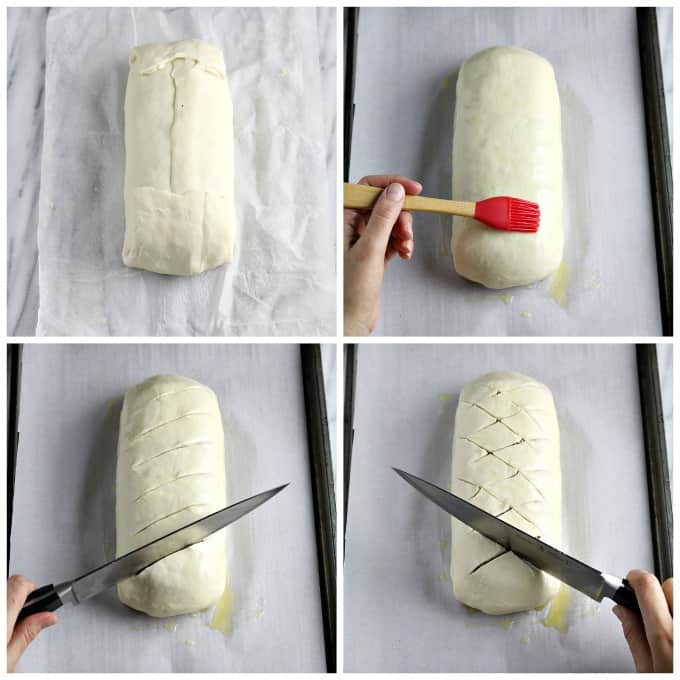 Flip the loaf over so and brush the top and sides with melted vegan butter. Now gently cut diagonal slits across the whole top of loaf about 1-inch apart and repeat in the opposite direction.
Place in the oven until heated throughout and the pastry is golden brown (about 30-35 minutes.) Let sit 10 minutes before gently cutting with a sharp knife. Don't forget the gravy! ENJOY!!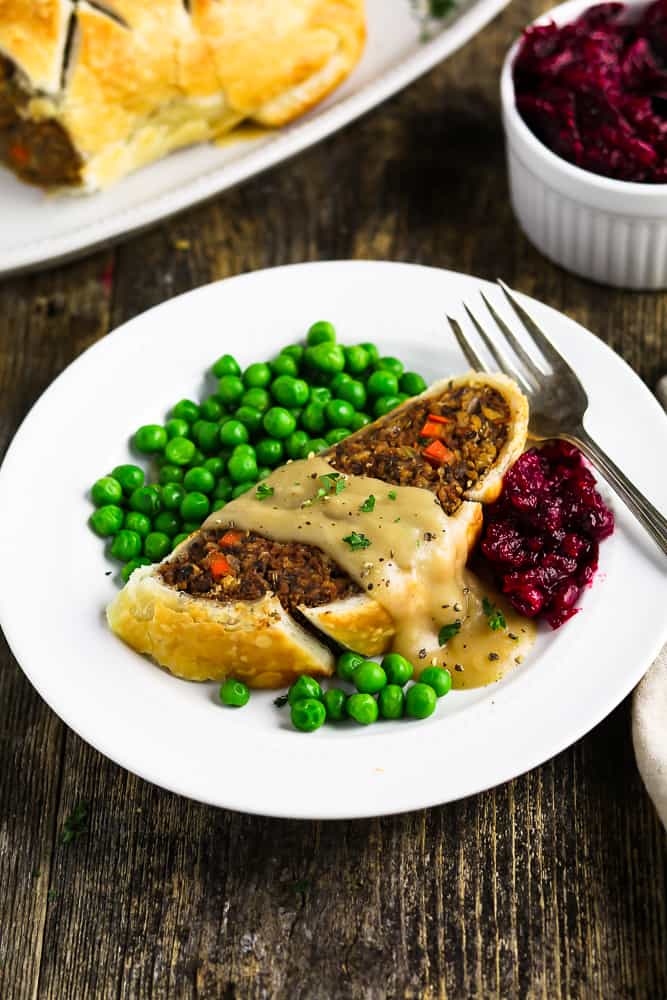 Can Vegan Wellington be made ahead?
Absolutely!! Just prepare it up to the baking point and refrigerate it in cling wrap or a tightly sealed container.
The baking time will be approximately 20-30 minutes longer and I would reduce the heat to 375 °F. You can turn the heat up the last 15 minutes if the top needs more browning.
To reheat fully cooked leftovers, cover the portion you'll be eating and heat in the oven at 375 °F until heated throughout.
Need more holiday dinner inspiration? You'll find so many tasty options in this recipe roundup by Stacey Homemaker. They are all unbelievably drool-worthy!
I'd love to hear from you
If you make this Vegan Wellington, let me know what you think by ★ star rating it and leaving a comment below. It would really make my day. You can also follow me on Instagram and share your creation with me. Just tag me @veganhuggs and hashtag #veganhuggs so I don't miss it.
Vegan Wellington with Mushrooms, Lentils, Veggies
Mushroom lentil Wellington. Easy Vegan Wellington for the Holidays and potlucks. Puff pastry wrapped lentil walnut mushroom loaf. Vegan Recipe. Make into a loaf to make gluten-free. Jump to Recipe
Another week done and another 2 to go. Lets make this fabulous puff pastry wrapped lentil mushroom walnut roast to celebrate. The lentil mushroom mixture is fabulous on it its own. You can make it into patties or a loaf and serve with gravy. I made 2 loaves and wrapped them in puff pastry for a wellington style loaf. The buttery crisp pastry makes it festive and decadent.
Onion, garlic, walnuts gets toasted on the skillet, then mushrooms cooked down, then combined with lentils, veggies, herbs and flavoring. The mixture is packed into a puff pastry and baked to golden. Slice and serve with gravy , mashed potatoes, side salad. Sunlight fades too quickly these days so I made a quick wrap with slits. Use lattice or other pastry wrap designs to make it prettier. To make it gluten-free, make the mixture into patties or a glazed loaf.
The filling is a mix of my lentil walnut burger and lentil quinoa loaf with herbs to flavor. To sub the walnuts, use pecans or a combination of oats and toasted sunflower seeds. The filling also makes excellent hand pies.
More Holiday Mains
Get the kindle versions of my books for 2.99 for a limited time, when you buy a print copy!
The wellington can get messy to slice. Brush some non dairy milk and let them cool under a towel for a bit before slicing. refrigerated loaf slices even better. You can also use filo to cover the lentil mixture. You can also make this into hand pies so no slicing is needed!
If you make this loaf, do let me know in the comments, and tag me on #veganricha Instagram! Happy Holidays!
Vegan Seitan Wellington
As we are slowly approaching the Holiday season I'm starting to think about festive dishes to serve on the Christmas table.
This vegan Wellington will definitely be the centerpiece! It consists of a super tender and meaty seitan roast coated in a mushroom duxelles and wrapped in a flaky puff pastry. Ready?
It starts with the duxelles, which is a mix of finely chopped mushrooms, shallots, garlic, and thyme. It is sautéed in a skillet until it forms a paste that will coat the roast.
The mushroom duxelles adds a ton of flavor and really is the key to a good Wellington. Once your duxelles is ready, set as >
You guys loved my Teriyaki meatballs for their soft and meaty texture so I slightly tweaked it to make it into a large roast.
The base remains the same, we use a mix of brown rice, red kidney beans, and mushrooms that bring moisture and umami. Then for flavor, we have sautéed onions, garlic, and spices. What I did differently here is that I added some cinnamon and nutmeg for a more Christmassy flavor and a whole cooked beet that gives the roast a distinct red color. The addition of a beet also adds a natural sweetness to the roast.
To make the roast, you combine all the ingredients in the bowl of a food processor and pulse until you get a paste. Don't process too long though, you want to keep some texture. Once this is done, transfer to a large mixing bowl. At this step, you can be creative and tweak the recipe a bit by adding a handful of raisins, cranberries, pecans, or walnuts for more flavor and some crunchiness.
Then for a meaty texture, I combined the mixture with vital wheat gluten. Unlike most seitan roasts, this one is moist and tender. Gone are the dry and too chewy roasts! If you are gluten-free, I guess you could substitute the gluten for gluten-free breadcrumbs. Be aware the texture won't be as meaty though.
The next step is shaping the Wellington. Start by spreading the mushroom duxelles in the center of a vegan puff pastry. Then place the seitan roast on it and generously brush it with mustard. Mustard adds another layer of flavor that goes very well with the mushrooms.
To shape it into a nice log, I recommend using plastic wrap. Use the plastic wrap to wrap the seitan roast in the puff pastry, then pinch the ends of the pastry to seal it.
For the decoration, you can go with a classic lattice pattern or nothing at all. Personally, I added a vegan logo on the crust, at least I tried.
45 minutes in the oven and you end up with this beautiful golden brown Wellington!
This Wellington roast is perfect for the holidays, it's festive, flavorful and is even more delicious served with gravy, asparagus and mashed potatoes on the side. It's the ultimate holiday dish!
Let me know in the comments if you try this recipe!
Ultimate Vegan Christmas Roast Wellington
Ultimate Vegan Christmas Roast Wellington
This is the most epic ultimate vegan Christmas roast wellington. Gone are the boring nut roasts, this recipe is game changing!! The flavours are incredible & it has a really meaty texture whilst being packed with Christmassy flavours. I hope you all try it because its literally FIRE!!
Serves 6-8 Cooks In 3 Hours Difficulty 6/10 Gluten Free No
Ingredients
Wet
2 tbs Vegetable Oil
1 Onion, chopped fine
1 Leeks, chopped fine
2 cloves Garlic, minced
1 tsp Sea Salt
1 tsp Cracked Black Pepper
Pinch Cinnamon
Pinch All Spice
Pinch Paprika
Pinch Ground Nutmeg
1 tbs Dried Sage
2 tsp Dried Rosemary
1/4 cups Dried Cranberries, chopped extra small
1/2 cups Dried Apricots, chopped small
1 cup Chestnuts, chopped small
1 cup Cider
1 cup Vegetable Stock
1 tbs Miso Paste
2 & 1/4 cups Vital Wheat Gluten
3 tbs Chickpea Flour
Cayenne Pepper
All spice
Dried Sage
Dried Rosemary
Dried Tarragon
Rest of the Cider
1 Orange
2 Cups Veg
1 Onion
2 cloves Garlic
1 Bay Leaf
Handful Thyme & Rosemary
1 tbs Miso
2 tbs Balsamic
4 tbs Cranberry & Orange Sauce
1 block Shop bought Vegan Puff Pastry
3 tbs Maple
3 tbs Milk
4 tbs Vegetable Oil
Method
Sweat the onion, leeks, garlic, herbs with the seasoning & spices.
Once soft add the dried fruit & chestnuts. Sauté for 3 minutes.
Deglaze the pan with the cider, then add the stock & miso paste. Allow the mix to simmer for 2 minutes before turning the heat off.
Mix together the dry ingredients in a large mixing bowl.
Once the wet mix has slightly cooled add it to the dry ingredient bowl & mix well.
Knead the mixture for at least 10 minutes. The pre heat your oven to 180 degrees C.
Allow the dough to rest for 10 minutes whilst you clean up.
Roll the dough into a sausage shape around 4'' in diameter.
Sprinkle the spice mix on your board & roll the dough into it until well covered.
Wrap the dough in cheese cloth & tie each end.
Place the wrapped dough into a deep baking tray with the rest of the roasting ingredients.
Bake for 2 hours at 180 degrees C, on the bottom shelf – turning half way through cooking.
Once baked, remove from the tray & allow to cool slightly before removing the cheese cloth.
Roll out your puff pastry into a tea towel sized rectangle around 3mm thick. Score strips a 3rd of the way in the pastry on each side so you can make a lattice (optional – see video for tips).
Brush the roast with cranberry sauce. Then place into the centre of the pastry & wrap. Brushing the glaze on when needed.
Bake for 15-20 minutes or until golden.
Whilst the roast in cooking, strain the roasting mix through a sieve into a saucepan pressing through the lovely juices. Place the saucepan over a low heat & allow the gravy to simmer for 10 minutes until thick, you can add a touch of flour if it's too thin.
Once the Roast is golden, carve & serve with the gravy.